Posted 23 November, 2015 by Dan Sharp in 中国体育平台 SEO Spider
中国体育平台 5 Year Anniversary Giveaway
It's five years ago today that we released the Screaming Frog SEO Spider to the SEO community. It's amazing to think how far we have come in that time, but I'd rather focus on what's still to come, celebrate and thank everyone for their awesome support over the years by giving away more Screaming Frog swag.
We had a lot of entries the last time we did a giveaway and many have asked when we will do another. So apologies it's taken so long, we wanted to make this one even bigger, so there's a greater chance of winning!
How To Win
If you were unlucky last year, then you have another chance to win a Screaming Frog hoodie, or zoodie and new for this year, we also have some beanies and stickers to giveaway.
In total we have 20 hoodies, 30 beanies and 50 lots of stickers (ideal for laptops / MacBooks) to giveaway. All you need to do to have a chance to win is tweet your entry via the Rafflecopter widget below.
Like last year, the giveaway is one entry per person, the winners will be randomly selected and we will be in touch with regards to sizes and sending them to you (obviously at no cost!). You can be anywhere in the world, which has international post from the UK to enter.
The competition will end in 7 days' time on the 30th of November and the winners will be announced on Tuesday 1st of December '15. Here're the hoodies and zoodies –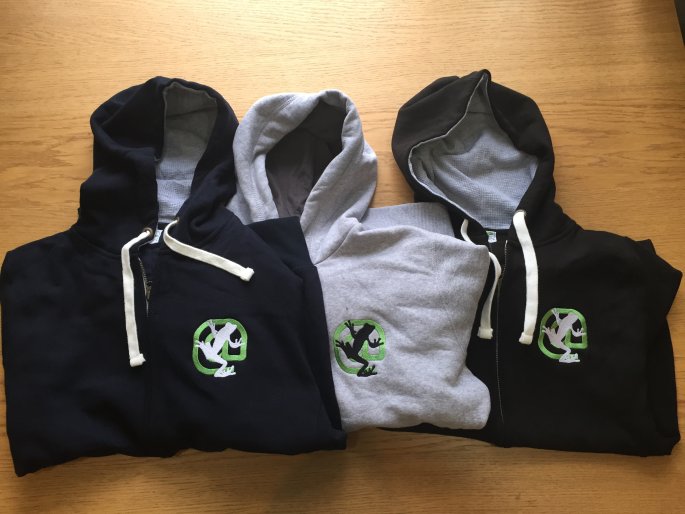 The innovative Screaming Frog beanie is able to keep an SEO's ears warm AND look super cool at the sametime.
Here they are modelled by Lucy and Olli –
This is how you might look if it started to snow (indoors when a fellow colleague unsuspectingly throws fake snow over you, while you're being photographed) –
And then when two more colleagues join in to dump 'snow' over you, and the snow turns into a blizzard –
The funky Screaming Frog laptop stickers (sorry, laptop not included) –
Just Enter The Giveaway Already
You don't need to worry about providing us with your email address, we promise not to use it for anything promotional; we are just giving away free stuff.
Good luck to everyone who enters the giveaway. The winners will be announced here in just over a week's time, as well as by Twitter and Facebook. We will also be in touch via email if you win!
Final Note
I just wanted to say a big thank you to everyone again for their support over the last five years. Screaming Frog just would not be what it is today, without the SEO community.
The continued feedback, suggestions and support from all over the world has been incredible, and you, the community has played a huge role in the direction, development and continued evolution of the tool. I'm really excited to see what the next five years brings us!
Update – The Winners Are!
We had a huge number of entries to win swag, so thanks to all who entered. The winners are as follows –
Hoodies
Kieran Headley
Rob Weatherhead
Tom Blackshire
Jack Stonehouse
Alan Lorthios
Manley
Kieron Hughes
Mark Rofe
Kirstin Hargreaves
Richard Keenan-Heard
Conrad O'Connell
Wissam Dandan
Mark Chalcraft
Tara Stockford
Bill Slawski
Sean Malseed
Patrick Coombe
Alan Bleiweiss
Paul Martin
Arnout Hellemans
Beanies
Ryan Ogilvie
Kevin Ellen
Samuel Hailstone
Andy Drinkwater
Karl Baxter
Tom Etherington
Dan Morehead
Matthew Marley
Andrew Parker
Ragil Pembayun
Stefan Klenk
Sam Harries
Dean Cruddace
Krystian Szastok
Jack Cornwall
Nadine Krewenka
Jens Umland
Kyle Chivers
James Perrott
Shawn Huber
Simon Cox
Rhys Wynne
Sam Gooch
Jack Innes
John Campbell
Raphael Doucet
Ahmed Khalifa
Ian Daniels
Kev Strong
Jim Seward
Stickers
Charlie Whitworth
Tony Dimmock
Hannah Maguire
Lewis Pugsley
Mickael
Will Barnes
Paul Delaney
Sam Pennington
Ben Johnston
Shaun Causer
Martin Harrison
James Wilkinson
Joe Leeming
Simon Thompson
Chris Faron
Phil Holmes
Gareth Beck
Nicholas Chimonas
Isabel Caraballo
Angela Bergmann
David Calabuig
Victor Pan
Ross Allen
Markus Klöschen
John Smith
Tahera Crean
Fisnik Sylka
Gerard Enter
Bobby McGill
Anthony Juda
Edgar Estrada
Thomas Newman
Sean Riggs
Gideon Roberts
Roderic Van Binst
Attawee Jaroenwattanawinyoo
Sergio Redondo
Chris Still
Emma Barnes
Philip Bowers
Andrew Martin
Isaac Bullen
Vincent Lahaye
Matthieu Morillon
Quentin Adt
Paul Tyler
Remi
Viliana Petrova
Umar Khan
Levi Bloom
Congratulations to you all, we will be in touch shortly with details of the prize!
Thanks again to everyone that entered, to those that didn't win this time, there will be more!