Posted 16 January, 2019 by Ben Fuller in PPC
Google Grants Account Suspended – The Next Steps
If your Google Ad Grants account has been unexpectedly suspended, this article will help you through the process of getting it back up and running in as little time as possible, as well as providing preventative measures that will keep your account suspension free.
Initial Suspension

Ad Grants account guidelines are renowned for being vague with regards to their disapproval reasons, and it can often be the case of automated checks flagging problems that were potentially misinterpreted by their systems. If you believe this to be the case, then jump along to the section about how to get in contact with Google and dive straight into getting your account re-reviewed.
A more likely reason, however, will be that one of the program terms or policies has been violated somewhere in your campaigns. In this case, you will need to take a closer look at your account in order to resolve the issue.
Diagnosing the Problem
In most cases, if your account has violated any policies during the month, you will receive a gentle nudge via email to check your account's compliance with programme policies. This email will link through to a policy compliance report explaining which area of the account is causing problems.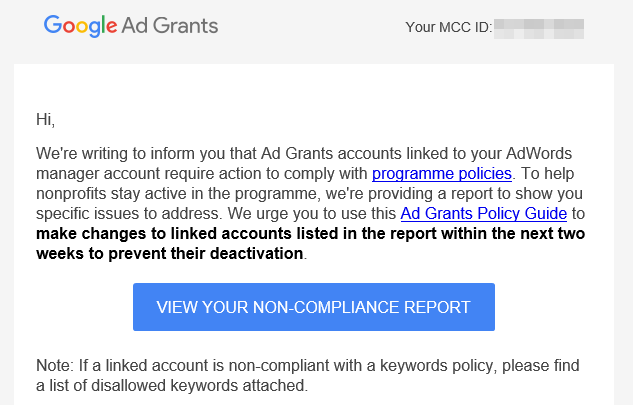 In addition to this, Google provides an Ad Grants Policy Compliance Guide  that will help you understand what's needed to comply with the Grants programme policies.
When reading this, go through each section to make sure that you are following each policy correctly, check and check again!
Common reasons for suspensions
The most common reasons for why a Grants account may have been suspended include:
Not enough ad groups per campaign
Every campaign requires at least 2 ad groups per campaign, with at least 2 ads in each and 2 sitelinks across the account.
Low Click Through Rate (CTR)
Not reaching the specified 5% CTR for 2 consecutive months can result in a temporary account deactivation.
No active keywords in an ad group
Having an active ad group with no active keywords in it can often cause an account to be flagged. This ad group will have to be paused or have some new relevant keywords added to comply. This is something to be especially wary of if you have set up any rules to pause low quality score keywords. This is explained further in the ways of preventing future suspensions
Low Quality Score
Every single keyword that is not removed or paused within your account needs to have a quality score of 3 or higher. Reminder : If the keyword is yet to be given a visible quality score and is shown with a dash (-) then this keyword is still compliant, it's only those with a QS of 2/10 or 1/10 will cause problems.
Not responding to Programme Survey
All Ad Grants accounts must complete an annual programme survey sent to the login email address. Email accounts are often lost or neglected, however, failure to complete this will result in temporary suspension. Always make sure that your contact details are up to date so that this reminder isn't missed.
The Next Steps
If you have been through the checklist and can't identify why you may have been suspended or believe Google have made an error, then your best option to understanding the suspension reason will be to get into contact with Google , and talk to their grants team.
If however, having looked through the compliance checklist, you have identified what caused your account to be suspended, you will be in a position to request reactivation, which is detailed below.
Getting Reactivated
Once you've discovered the reason why your account has been suspended, then the next step is fairly simple.
All you will need to do now (after you've made the necessary amendments), is request for reactivation of your Ad Grants account , filling in your Ad Grants account ID, sign-in email address, contact email and a brief explanation covering the steps you went through to get the account compliant in the notes section. Then press 'Submit'.
Once submitted, Google state you should hear back from a Googler within three business days.
It's worth keeping in mind, Google won't be able to re-activate your account if there are still errors within the account, so it is your responsibility to make sure the account is fully compliant before being resubmitted.  If you do experience any problems then go through the checklist again or get into contact with Google, as detailed below.
Contacting Google
If you are amongst those that do not know why your account has been suspended, then you will need to contact Google directly.
Often the easiest way to do this is by remaining on the Google Ads interface and clicking on the 'CONTACT US' button in the red deactivation banner found on your overview. Similar to the one below.

You can get in contact with Google in one of three ways:
Live chat: – Often the best way to get in contact with Google when trying to diagnose the cause of an account suspension is through live support, you normally get connected quickly and it's an easy way of getting hold of someone who can get the account re-reviewed then and there.
Call: – You can also contact your local Google office by phone (for example, here in the UK their number is 0800 169 0409 . One problem with this method though is that they do say that the lines are only answered during office hours, which isn't helpful if your suspension occurs at 6pm on a Sunday night!
Email Support: – Alternatively if you don't have time to chat at the point of suspension, you can email the Google Grants help support at any time and should expect a reply within 24 hours.
If you're still unsure as to what you need to do to get back up and running there is also the ability to use the Official Google Ads Community to view/join discussions about other instances of Ad Grants account suspensions and possible remedies for these.

Ways of preventing future suspensions
In order to avoid having your Ad Grants account suspended again, we've listed below some handy tips and tricks that will help ensure the account remains compliant and suspension free.
Automated Rules
If you don't have time to check your account every day, setting up automated rules are a really good way of staying on top of the basic requirements. These rules can be used to not only pause keywords that go below a quality score of 3, but also to turn on any that reobtain a quality score of 3 or above (or are shown with no score at all).
Note the basic rule can sometimes leave ad groups vacant and so you should also add a script to check and pause any empty ad groups.

Using Filters
If you think your account/campaigns could include any non-brand single keywords , you can easily check by filtering all keywords, with a filter that consists of 'Does not contain' and then entering a space ( ), all those non-brand keywords should be paused or removed. If the only keywords returned are your brand, then you may have to contact Google and register/whitelist them so that they don't flag the keyword policy.
Use match types to increase ad groups
If you are struggling to create two distinct ad groups within a campaign, then a simple (and quick) way is to build out your ad groups based on match types. E.g. exact match & broad match ad groups can be run and will abide by the '2 ad groups per campaign' quota.
Always review your compliance reports
If Google do send over a non-compliance report stating an infringement in policy, make sure you always look into this, even if you believe the account to be fully compliant. There is always the possibility that you may have miss-checked something or that something has changed recently which is causing Google to flag your account, so always treat this with the utmost importance in order to avoid suspension.
In review
Hopefully, you won't find yourself in the position of having your Ad Grants account suspended, but if you do our final (and probably most important) piece of advice is not to panic. Follow the guidance provided and work through each of the policies, checking off each requirement as you go. Once you're sure you've met all the requirements, get that review request in and you'll soon be back up and running and driving relevant traffic to your site.
If you're still not sure how best to make sure your campaigns stay online, then drop us a line and we can look into how we could help!