Posted 20 February, 2014 by Matt Hopson in PPC
Google Shopping Campaigns: PLAs – The Next Generation
When Google first openly discussed that they would be moving their Google shopping section (AKA Froogle if you remember back that far) under the AdWords umbrella there were concerns. I think though, most will agree that Product Listing Ads (PLAs) have been a massive success with the costs involved being vastly outweighed by the returns.
This success did not go un-noticed at Google and late last year, they created a new campaign type solely targeting those shopping queries pushing this new set up to a limited number of advertisers. This beta obviously went well and the new campaign type is now available to all advertisers.
Google have said that this new campaign type makes it simpler to organise our product inventories in the AdWords UI, meaning that it will be easier to create highly targeted, customised campaigns.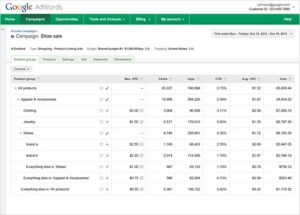 I'm the type of person who likes to create their campaigns at the most granular level possible and as such I'd structured my PLA campaigns using combinations of the core feed fields and the adwords_grouping & adwords_labels attributes that I've mentioned before when talking about product ad extensions . By doing this I was able to split out products and monitor them very closely, easily identifying those top performing products that I wanted to push. With the advent of this new campaign type these attributes are no longer used, being replaced by a number of custom labels – up to 5 in total.
(This does mean that I've got a bit of work to do before the campaigns are set up as I would like, but by using these labels correctly I will still be able to target my PLAs at the granular level that I want.)
For those of who had run their campaigns using different settings you can still subdivide your feeds how you like using any of the product attributes (category, product type, brand, condition, item ID, and/ or the new custom labels).
This set up also brings quite a few exciting new reporting features that will help advertisers monitor their campaigns, with Google now offering benchmarking data on both the max CPCs and CTRs as well as information on impression share. Google have also said that they will be releasing a bid simulator tool to help show advertisers a prediction as to how many impressions their ads could receive with a higher (sorry, Freudian slip) given bid.
I wasn't on the beta program for this new campaign type last year and so it's still very early days for me to make any comprehensive observations as to how these changes have affected my PLA campaigns (apart from that they haven't completely killed performance!) but I am hoping that the changes in reporting will make it a lot easier for me to really push those top performing products, just like I was able to with my previous campaigns.
For more information on how to create and run Shopping campaigns check out the AdWords Support section on them.
If you were one of the lucky ones who got to play with Shopping campaigns last year, how have you got on with them? Are there any tricks that we should know about?