Posted 5 January, 2015 by Dan Sharp in 中国体育平台
中国体育平台 Changes For VAT In 2015
I'm writing this post on the eve of 2015, as I prepare to update 28 VAT rates for each country in the EU as they enter the New Year.
We first found out about the EU VAT changes on the 26th November, just over a month before they came into effect. We have been VAT registered for 5 years, and have been selling our SEO Spider software into all 28 EU countries for the last 4 years – but haven't received a single communication from HMRC about the change. We found out by chance on Twitter, due to the #vatmoss #vatmess discussion. Arguably our accountants should have communicated these to us much earlier, but these laws were actually passed in 2008 as part of the 'VAT package', but have only more recently been discovered by many of those that are affected.
The change itself sounds simple enough; telecommunications, broadcasting and electronic services will always be taxed in the country where the customer belongs when the product or service is automatically delivered over the internet , or an electronic network, where there is minimal or no human intervention.
The idea behind this is to stop larger companies from basing themselves in low VAT countries, such as Luxembourg, to reduce tax being paid (*cough*, Amazon). However, with these changes small businesses are now required to collect VAT on behalf of 28 countries, rather than just one. To avoid the administration nightmare of registering for VAT in each of the 28 countries, we can register at the VAT Mini One Stop Shop (MOSS) who will transfer the VAT collected to the appropriate countries.
I can understand why they want to make the change, but I don't believe the impact it will have on smaller and 'micro business' was really considered, or at least, really cared about in any way. I won't go into any more detail about this, but just say that the comment by Andrew Webb (OBE!) in the 'Taxamo 100 Day Countdown Event' at around 20:50 where he says "I'm not aware of any business supplying into 28 member states", gives us an indication as to how little research into the practical impact of the changes must have been done. After all, we have to submit an EC Sales List every quarter detailing all of our EU sales.
" alt="">
I want to focus the remainder of this post on exactly that; the changes we've had to make based on the rules laid out and why we made them.
Determining The Status Of The Customer
The first step in the new process is, for an EU based customer, determining if the sale is Business to Business (B2B) or Business to Consumer. VAT should only be charged if the sale is B2C.
The suggested way of doing this from HMRC is:
If you supply digital services and your customer doesn't provide you with a VAT Registration Number (VRN) then you should treat it as a business to consumer supply and charge the VAT due in the customer's member state.
Our shopping cart already had the ability to do this, by using the VIES VAT number validation service. When a customer provides us with a valid VAT number we don't charge them any VAT, and they are responsible for accounting for it with their local tax authority. We've been using the SOAP API to validate VAT numbers during the checkout phase since our new account system went live in September.
As this system provides the only automated way (remember, the new rules only regard sales systems with 'minimal human intervention') you'd think this would be a highly available service. The extensive scheduled downtime is quite laughable for such a key service in this new law. For example, validation of a UK VAT number can't be done between 04:30 and 04:40 'almost daily' and for a 3 hour period on Saturdays between 07:30 and 10:30. The Netherlands could be unavailable for a whole day at the weekend.
Since going live, we've received several reports from customers trying to purchase a licence that the service was down outside of the scheduled downtime. When this happens we provide a link to the VIES service page that shows each members states current status for both Web and WS (Web service, ie the SOAP interface we are using). Unfortunately we've found this page to be completely inaccurate, stating services are up when they are not. This is just a little frustrating.
Intrigued by this, we decided to start monitoring the service to test uptime. We put together a simple script that tries to validate a VAT number from each of the 28 states once a minute with a 1 second gap between requests. We've been running this monitor script for a month, since early December, and found quite a variation across member states, and no real correlation between the results and the stated scheduled downtimes for each state.
Based on the data we've collected the VIES service is up 99.38% of the time, but there are large variations across member states. Croatia is the most reliable service, with an impressive 99.99% uptime. The German system appears to be the least reliable, with a disappointng 96.62% uptime, and a maximum period of unavailability of 54 minutes. The league table below summarises our findings, we've also got the full results in csv format for anyone who fancies doing some further analysis.
Gathering Evidence
The second challenge we had was around evidence of the customer's location. We must now store two items of 'non conflicting information' regarding the customer's location, as evidence to justify our VAT charge decision. The non exhaustive list provided is:
The billing address of the customer
The Internet Protocol (IP) address of the device used by the customer
Customer's bank details
The country code of SIM card used by the customer
The location of the customer's fixed land line through which the service is supplied
Other commercially relevant information (for example, product coding information which electronically links the sale to a particular jurisdiction)
Analysing this list from our perspective, billing address is an obvious choice. Choosing a second piece of evidence was more tricky however. Using an IP address is going to be very hit and miss – anyone traveling or using a VPN/Proxy will appear from a location that doesn't match the billing address. We don't have access to the customer's bank details, so that's off the table as well. As we're selling via our website, neither SIM card nor fixed land line are relevant.
As for 'other commercially relevant information' – we don't ask users for any additional information except for an optional email address to send the licence to, and much like IP address it would be very error prone to use this (we've seen people suggest the idea of using the top level domain of an email address as evidence!). After watching the webinar (embedded above) with Vince Gable, VAT expert Esteban van Goor mentions the idea of 'self-certification' (around 37:50).
It's only when you read the explanatory notes that you can see an additional line that says:
(6) Customer self-certification – When the subscriber provides confirmation (e.g. within the online ordering process) regarding his country, his bank details (especially information where a bank account is) and credit card information, this could be taken to be 'commercially relevant information'.
Our interpretation of this is to provide the following tick box, based on the billing address: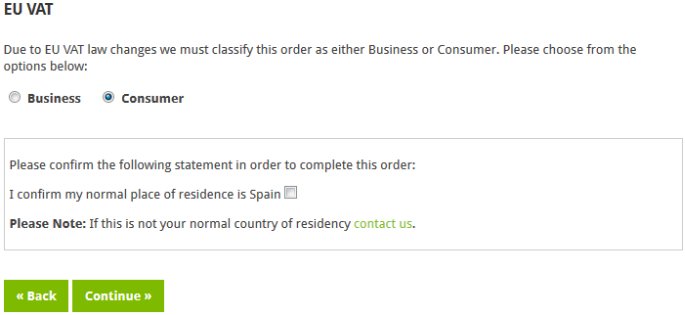 This must be ticked in order to complete the checkout.
Maintenance
Now, rather than tracking a single VAT rate, we have to track 28 separate country rates. There is currently no API available to get these rates.
They are stored in a single PDF document, that must be manually monitored for changes. The EU should be putting together a free API for this, to remove the burden from vendors. We submitted a question to Andrew Webb in the Q&A webinar, he answers this at 32:30.
The response, whilst acknowledging that it was 'clunky', was to essentially monitor a PDF – cutting edge stuff for 2015. There isn't even a page of updates or a change log anywhere, we are just supposed to check all the rates and hope to notice one which has changed. Another example of how little thought has been put into the infrastructure required to supported these rule changes.
Other Implications
Our shopping cart allows us to define VAT rates on a per country basis, but not on a per product or product type basis. The implication of this is that if we wanted to 'sell' any physical products (hoodie anyone?) we'd have to make significant changes to the shopping cart.
Unresolved Issues
When looking over the pdf document that contains the VAT rates for the EU , we noticed that on pages 22 & 23 there are some regional variations for some countries.
The standard rate for Portugal is 23%, however in the Azores it's 18% and for Madeira it's 22%. We did submit this as a question in the Q&A webinar, but unfortunately it wasn't included, so instead we emailed all of the tax authorities to whom this applies, and have received answers from about half of them. Unsurprisingly they take differing views on how to deal with this. Some seemed to take a pragmatic view, for example Portugal confirmed that for MOSS purposes we can treat the examples above as the mainland rate; some acknowledged they need to update the VIES document to be less ambiguous (Finland) and some confirmed that yes, we should be charging differing VAT rates per country. Although the territories involved are small and will probably never buy our software, it is mainly for this reason we couldn't use any of the third-party VAT API providers as none of them we looked into could deal with this properly.
HRMC Correspondence
We called the HRMC on the 27th of November to request clarification on a number of issues. The operator we spoke to had no real understanding of these changes, simply reading back to us the information from the HMRC website.
In the view of the operator, we should be attempting to 'identify the customer's location at the time of the purchase', not their normal place of residence. We requested a call back with one of their technical experts, and almost 6 weeks' later we've still yet to receive it…
Conclusion
It was disappointing to find out about such a significant change so late in the year and not from an official correspondence by HRMC. They say they've worked hard to communicate these changes to businesses, but clearly, they failed along the way for so many.
We are fortunate that our shopping cart was (with a few days of modifications) able to be adapt to handle the new VAT rules. As mentioned above, while it only took a few days to actually make the required modifications, it took us longer to decipher the new rules, in particular those around 'gathering evidence'. The 'Customer self-certification' method is the most simple and robust for us, yet only appears in the explanatory notes PDF for example.
We also have some serious concerns about the robustness of the VIES system, which just isn't up to the required standard currently (as per our testing outlined above). We expect this will continue to cause us issues, especially as the system is likely to see an increase in demand during 2015.
Finally, it looks like everyone in the UK will need to keep their fingers crossed for as few VAT rate changes as possible across the EU…