Posted 24 June, 2014 by Paudy Heal in SEO
The Importance of Social Media to the SEO World
Ah, social media and SEO. Some will tell you they go together like Batman and Robin, and others will tell you they go together like exact match anchor text and a Penguin update! There's been a lot of confusion about whether the two go hand in hand in recent years, but it's surprising how many people in the SEO industry waste this fantastic platform as a result.

The confusion's understandable – back in January, Matt Cutts told us that social signals were not given any special treatment when it comes to Google's ranking algorithm. In other words: Just because you or your client has a high number of followers or your content receives a load of social shares, doesn't necessarily mean you're going to rank well. Saying that, Google+ signals certainly seem to influence the SERPs, but I guess the clue is in the name there!
Google is always looking for new ways to provide people with the most accurate and relevant search results possible, and timely data is fundamental here. There really is no better real-time platform than social media; it tells us what people are talking about, who these people are, what's popular, what's not – the list goes on. Google only samples the web at very specific points in time, and it has found it (understandably) challenging to incorporate this real-time data successfully to date, but I think it's only a matter of time until we see social playing a much bigger part in organic rankings.
Anyway, regardless of what may or may not happen, I want to share a few ideas on why I believe social is so important to SEO today, and why it shouldn't be ignored.
Social Media Does the Link Building for You
In SEO, the off-site side of things is (or was) ultimately all about creating content and building links, whereas social is all about engaging with people and building relationships. What many people tend to forget however, is that the latter can often lead to a huge number of natural links being built as well. When somebody shares your content, it's likely that a segment of their following have similar interests – so one seemingly insignificant share carries the potential to snowball into many, many more! Social allows people (who may have never come across your content in the SERPs) to see it, talk about it and start to create a buzz within the social community.
Let's say you create a piece of content and share it on Twitter. It gets over 1,000 retweets. Does Google care? Not particularly. Now let's say that, because of all these shares, an editor of a top website notices it and decided to feature it (and link to it) on their site. Does Google care now? Absolutely!
If your content starts to create a social buzz, it really isn't uncommon for editors, bloggers and journalists to spot it and reference it on their website. They keep an eye on social media way more than they keep an eye on search engines, so it would be silly not to take advantage of this. Not every share will result a link or provide direct SEO benefits, but brand mentions are still awesome for brand awareness. Whenever we publish a piece of content for a client, I like to keep an eye on any brand mentions using Google Alerts and Fresh Web Explorer – both of which are fantastic at monitoring these mentions. I love the visuals Fresh Web Explorer offer: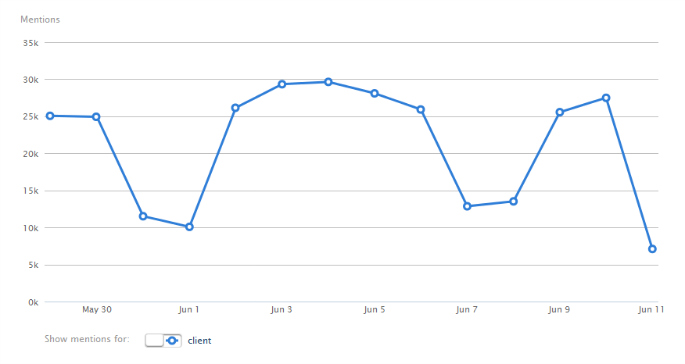 The alerts you receive can be pretty hit or miss, but it's always worth keeping an eye on these mentions as they still present an excellent linking opportunity – weeks or even months down the line. If a client is mentioned or a piece of their content is shared on a nice site, I'll often send them over a quick email to ask if they could link to the source of the content (obviously not as bluntly as this).
Building Relationships with Influencers
Obviously not every piece of content you create is going to experience viral results, but getting an industry influencer to share or talk about it will significantly increase its chances. Influencers often have an enormous following of people interested in the industry, and these guys follow them for a reason too – they enjoy and trust what they post and share. Getting an influencer to share your content gets it in front of the perfect audience and, because the content has been shared by a source they trust, they'll often share it themselves (leading to the social buzz I mentioned in the last section). This effect is also sometimes known as the ripple effect – where a customer is influenced by something and consequently starts to sell it on your behalf.
To get your work in front of these already-interested followers, you can't just sit there and hope an influencer will just happen to pick it up and share it. You need to get in touch with them and actively work on building a relationship with them. This certainly isn't a quick process, but it's more than worth it. Bear in mind that you won't be the only person after this relationship, so you have to stand out. Rather than simply complimenting their work, why not use their work? Add something to it, or use the data they provide to create something new entirely. Grab their attention!
Another thing I sometimes like to do when creating a piece of content is to actually ask for their advice during the creation process. I'll give them the low-down on what I'm planning to create, and see if they think it's an idea that would stimulate people in the industry. If it is, I'll ask what I could do to improve it further, or what data should be included, just any input they can give me. They won't always reply of course (they're busy people!) but when they do, they feel involved in the process. They have a sense of ownership over the content and, more often than not, will happily share it with their followers or feature it on their website when it's completed. Even if they don't end up referencing it, you've still gained some incredibly valuable feedback – it's a win-win.
How to Find These Influencers
No matter how niche or boring your client's industry is (in your opinion) there will almost always be a number of influencers out there whose followers are hugely interested in the industry. Two tools that I love to use to find these guys are Topsy and BuzzSumo – both of which are social analytics tools (and they're completely free).
Let's say we've created a piece of content around gadgets for the kitchen, for example. I'll simply search for 'kitchen gadgets' or similar on BuzzSumo, and use the filters to make sure it only displays content that's been popular recently (I usually set it search within the last month) and I sort the results by Twitter shares: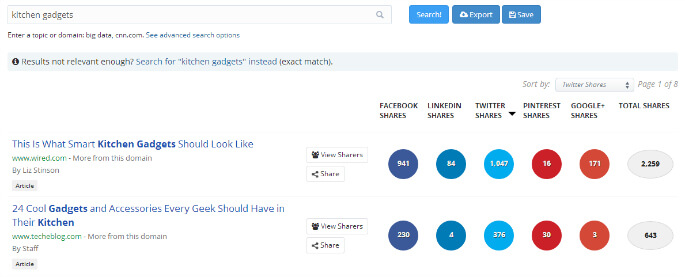 I'll use the top result as an example. This piece received loads of shares within the last month (it must have done something right) so let's dig a little deeper into who shared it. BuzzSumo makes this really simple and all you have to do is hit 'View Sharers'. You can then filter these results down further by checking the 'Influencers' box, and there we have it – a list of influential people within the industry who would be great to get in contact with:

In terms of finding influencers, Topsy usually delivers pretty similar results to BuzzSumo, but it's always worth checking both as one often picks up an extra couple of people than the other. By pasting the URL of the popular piece I found on BuzzSumo into the Topsy search bar, the tool presents a list of everyone who shared it. Again, we only care about influencers in this instance, so all you have to do is click on the 'Influential Only' tab: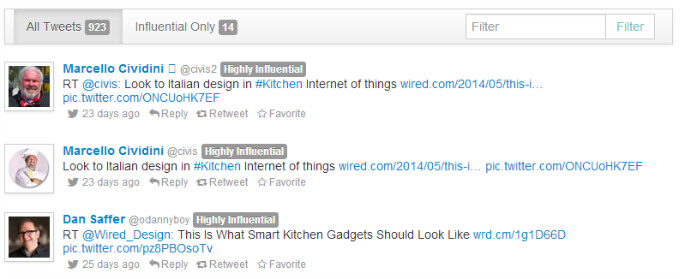 Social Is Sustainable
I know this a pretty odd subtitle when talking about a real-time platform, but social really can lead to sustainable relationships and results. Getting a link on a nice website is all well and good in the eyes of the search engines, but think about the people viewing it – will they bother to click on the link and bookmark your site to make sure they don't miss your next piece of content, or will they just carry on going back to the site that shared your content? Probably the latter! Social media makes it much easier for people to visit your site to view the content, and also to follow your client's social profile (and therefore see all your future news and content). Every time you or your client gains a genuine social follower, the size of their customer base increases, and this growing audience further increases the likelihood of future content being shared.
To Sum Up
Hopefully I've been able to highlight a few of the benefits social brings to the SEO world today. Social may not directly benefit SEO (yet) but it can certainly complement SEO campaigns and be used in link building strategies. Another important thing to remember here is that: Just because Google can't directly see something, doesn't mean that people can't! It's these people that Google rely on, and it's these people who are becoming increasingly important to SEO. I've focused mainly on Twitter throughout this post (it's a personal favourite) but there are of course a number of brilliant social channels that all carry their own unique SEO advantages. The network to focus on will obviously depend on your client's industry and the type of content you create for them, but it's important to only manage a select few social channels so you can fully focus on them– similarly to links, it's about quality not quantity here.
And, to finish with an awful pun, I'll leave you with one of my original title ideas: SEOcial Media. Sorry.