Posted 3 March, 2011 by Matt Hopson in PPC
Yahoo! and Microsoft Search Alliance Webinar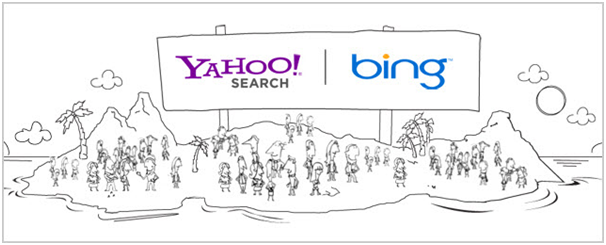 So this morning I, along with I would imagine quite a few other advertisers logged into the Yahoo & Microsoft Search Alliance webinar; if I'm honest after listening and watching a few of these in the past I wasn't expecting to hear anything ground breaking but as the migration will be taking place in the UK very soon I thought I should take part just in case.
Below are my notes from the webinar which hopefully you'll find useful if you weren't able to attend or if you have missed any of their previous seminars on the subject.
As with all Yahoo/Bing presentations the webinar began with the obligatory showing of the Search Alliance promotional video. The presenters then quickly ran through the benefits of the 10 year alliance, highlighting that by working together they are able to achieve the scale and innovation necessary to offer a competitive new choice in search. They also stated that the new partnership will provide better value & efficiency for advertisers as it will simplify billing & support as there will be one team for the two channels.
Following on from these benefits they highlighted a few stats about the new partnership that they wanted advertisers to be aware of, these were:
22m unique UK searchers use Yahoo! & Microsoft sites
429m monthly searches take place through Yahoo! Search, Bing & their partners
5m unique UK searchers don't use Google
Together Yahoo! & Bing audiences are 41% more likely to convert than the average UK searcher
They are 47% more likely to buy online than Google searchers worldwide
(These figures were from comScore & Nielsen NetRatings)
Next the presentation touched on the various feature differences between the YSM & AdCenter platforms, including the difference in keyword management (mapping differences, excluded/ negative keyword limits & match types), ad copy differences, the levels of geo-targeting available and finally the budgeting options.  By showing these differences it really became apparent how far behind the Yahoo system was to not only AdCenter but also Google. Now I'm not saying that AdCenter is going to be the platform leading the charge into new features and functionality as I think Google still leads the way there, but at least now all three of the platforms are a bit more comparable.
Following on from the benefits section of the webinar was 'next steps & useful resources'.  Here we were informed that we should continue to optimise both our YSM campaigns & Adcenter campaigns right up to when the transition is complete (shock horror) and that to make sure everything was set properly for the move we should follow the monthly transition checklists on the Search Alliance European site, there are different lists depending on whether you're a premium or small business advertiser but they basically give the same information.
Once the presentation ended a Q&A session took place, and as on many other occasions this was where I was hoping the real details would come out as the speakers have to react to questions without having the security of a pre-prepared script to guide them. There were a few good questions asked and so I've included them below.
Q) Will advertisers be able to distinguish where their traffic has come from within the alliance?
A) No, there are no future plans to show advertisers the split in traffic from Yahoo, Bing or their partners.
This was not a complete surprise to me as they are now pushing themselves as one search entity, however, from my experience I have always found that the audiences of both channels can and does differ quite a bit, which in turn does effect conversion rates, so not having the ability to optimise off the back of this information is a little frustrating.
Q) How will support be offered after the transition?
A) Premium/ Large Agency customers will receive support from their Yahoo representatives, whereas Standard/ Small Business/ Self Serve customers will receive MSN support.
Again, this wasn't new news to me but I can imagine that it could have surprised a few of the other listeners. An important side note to this topic as well is that if any premium/ agency customers aren't currently running AdCenter campaigns they will need to sign off new IOs as their existing Yahoo ones do not cover the alliance.
Q) What are your [Yahoo! & Microsoft] thoughts on the fear that a more competitive landscape will mean that CPCs are likely to rise?
A) Looking at what has happened in the North American market since the transition does not suggest that CPCs are likely to rise and also some advertisers have actually noted that their CPCs have actually gone down, which follows the figures we have internally.
Q) What happens with my YSM account? Is it just going to die?
A) Your YSM account will still be there but only in a read only state so that you are able to view historical data. No historical data will be transferred during the transition so this is where you can access it.
And that was the webinar over! As I had originally thought they didn't really cover anything new but it's always good to get to hear directly from the guys about the transition and so I suppose the next thing to do is to go back to managing our two separate campaigns and keeping our eyes peeled for the next 'update'.