Posted 17 September, 2012 by Jack Reid in Events
Predatory Thinking and Robots – Brighton SEO September 2012
Friday 14 th September kicked off another great BrightonSEO event which was just as full of antics and inspiring presentations as last April's. Remote control cars, scooters and shooting NERF nail guns at cut outs of Justin Bieber! A big shout out to Kelvin, the sponsors, the speakers, attendees and everyone else involved in the event! Here is my recap of the best from the Brighton Dome.
Dave Trott @davetrott – Predatory Thinking
In hindsight Dave kicked off with my personal favourite presentation of the day. He started off with the buzz around being "creative" and what it means. He segments creativity into pure creativity – art galleries, shows, exhibitions and the like, and applied creativity – which can be seen implemented in the advertising space he knows so well.
£18.3 Billion was spent last year in the UK on ads, with 89% not remembered, 4% remembered positively and 7% negatively.  Dave's advice? Kill everyone else (competitors – not literally), and go upstream with your thinking. He reminds us that with all the hype around social and other media outlets, one constant always remains – the consumer .
He breaks advertising down into 3 simple steps; impact, communication and persuasion and stresses the importance of impact . This is where most advertisers go wrong. Remember that the consumer's mind is binary (either remembers something or doesn't!) and you want to separate yourself from the 1,000 other adverts your target will see a day. He gives us more with his explanation of psychographics and says there are opinion formers and opinion followers in social groups. Each of the former will inevitably have more followers so if you can get at the opinion formers, you can get at the masses.
He gives a few examples of upstream thinking. Sainsbury's wanting £3 billion extra in revenue in 2 years. Instead of targeting new consumers, they calculated they can raise an extra £1.85 from consumers per week. This launched the "try something new" scheme and they reached their target within a year! Steve Jobs utilising white headphones for the Apple brand compared to the remainder of the market using black ones. Find out what drives people, think upstream, find pure creativity and think how to apply it and find a solution to the problem.
Dave has his own book out entitled "Creative Mischief", so check it out!
Antony Mayfield of @brilliantnoise – Do You Speak Brand?
Antony was blown away after reading John Battelle's "The Search" and still sees the industry as a developing and growing place. Not an advocate of the "SEO is dead" school; Mayfield reported that Coca-Cola are shifting their marketing efforts to 20% inbound and that the digital space will keep going that way.
Stephanie Troeth @sniffles – Speaking your User's Language
Stephanie brought linguistics to the Dome focusing on "when designing a site you should specifically consider what language you use". "Book online now" for example is flawed in that you would presume one is already online to view that statement. Consider whether the language used is rational or emotional; separate your on page language between the two and use in conjunction with brand image and values. She recommends using http://aarronwalter.com/design-personas/ . Stephanie's slides can be found here https://speakerdeck.com/u/stephtroeth/p/speaking-your-users-language .
Martin Belham @currybet – How to Make Friends and Influence Robots
Martin's speech covered a few items which help aid user experience. The first was headlines, and considering how the title of your content will look when shared. What sort of response does this engage the user in and is it "clickable". The second is when building or redesigning a site, use Google Analytics to see the flow chart of users. This will give you an idea for what pages they navigate to, and how best to build your navigation bar from then on. He says keep the site simple, as pages which use lots of coding etc. may take away from its UX focus. Site load time may need some extra investment to minimise bounce rates and he mentions to watch copy to see how users will interact and comment with your content.
Martin's summary can be found here http://www.currybet.net/cbet_blog/2012/09/how-to-make-friends-and-influence-robots.php .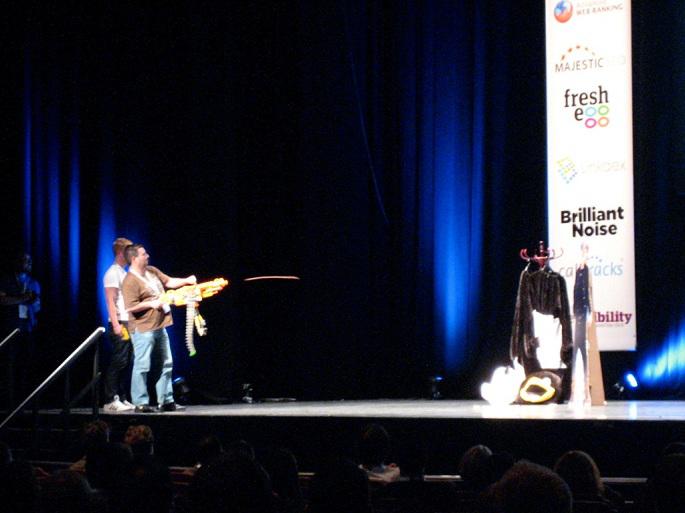 Beccy Weeks @BeccyWeeks – Chasing the Algorithm: Smart SEO or Hopeless Effort?
Beccy talked us through an OMD client case study with her talk, which ended up using some content submission on PR2-4 sites and also buying some footer links (naughty!). Then along came the Venice update targeting localised results, Panda penalising sites with low content quality and Penguin wiping out keyword stuffing and unnatural link profiles. Her conclusion – you need quality content, bad tactics don't work, and if you can't do it all, don't do it all!
Tom Anthony @TomAnthonySEO / Will Critchlow @WillCritchlow – API? WTF?
Will stepped in to deliver the slides Tom Anthony had prepared, which gave an interesting gaze into what the future of SEO might look like. Tom has already noticed the influx of widgets and other API's (application programming interface – computers talking to other computers) which are appearing in the SERPs already, and how these will become more influential. The online space is constantly evolving, so don't stand still.
Richard Baxter @RichardBaxter – How to be a Better SEO
A good and inspiring session by SEO Gadget's main man, some of my top takeaways for becoming a better SEO include setting yourself some short, medium and long term goals, get a mentor or role model, learn to pitch yourself, be curious and ask, why? Don't become complacent or feel your method is right/the norm. Put yourself out of your comfort zone every once in a while, make yourself a specialist, learn to build your own website and be prepared to hear negative feedback and act upon it. Richard's expanded version can be found here – https://seogadget.co.uk/better-seo/ .
Lynne Murphy @lynneguist – …And Now for Something Completely English
Lynne presented one of my favourite talks of the day, although not entirely SEO related, about the annoyances in the English Language. The English language is constantly developing, and its influences from Latin and French hardly make it unique. Many of the American words are spelt how the English used to spell them, with the English adapting to the French influence (standardised/standardized English and 'erbs and herbs; honestly!). If anything, this was a moral lesson in not being ignorant. Great talk!
James Little @3wdl – A Decade in Affiliate Marketing
Jason capped off some big affiliate history including Grubby Gate, and the Next Gate which got affiliates in a hoo-ha over the rate dropping from 5% to 1% by the high street retailer. He also mentioned his personal stories including his colleagues being involved with prostitutes and being held ransom in a taxi in the Bahamas! #RaggaRagga
Aleyda Sol ís @Aleyda – Mobile SEO
With more and more consumers using their tablets and phones over desktops, developing a comprehensive mobile optimised site has never been more important. Aleyda's slides and tips can be found on http://www.slideshare.net/aleydasolis/7-things-about-mobile-seo-you-need-to-know-aleyda-at-brightonseo .
Simon Penson @SimonPenson – Using Content Flow
The ex-Max Power Editor ushered the importance of using peaks and troughs in your quality of content release. Think FHM's Annual Sexiest Women and currently on ITV, X-factor (or at least how big they are trying to make it). Simon also mentioned ChromeExperiments.com and HighCharts.com for visualisation.
Yousaf Sekander @YSekand – Reverse Engineering Your Competitors' Social/Content Strategy
Yousaf's talk has some really actionable link building techniques in it. Content is Kingmaker, not King. Look at your competitors and look what is working for them. Social Crawlitics is a tool he built which can crawl a site, see what piece of content was shared the most, what author is the most popular and more. He mentioned BackTweets and Topsy, with the latter being paid but offering shares by influence amongst more features. He also mentioned DataSift, a social data platform.
He finished off with a cheeky tip, saying if you use a URL shortener in your infographic's embed code, the URL destination can be changed to other pages. His slides can be found on http://www.slideshare.net/ysekand/reverse-engineering-your-competitors-social-strategy-social-crawlytics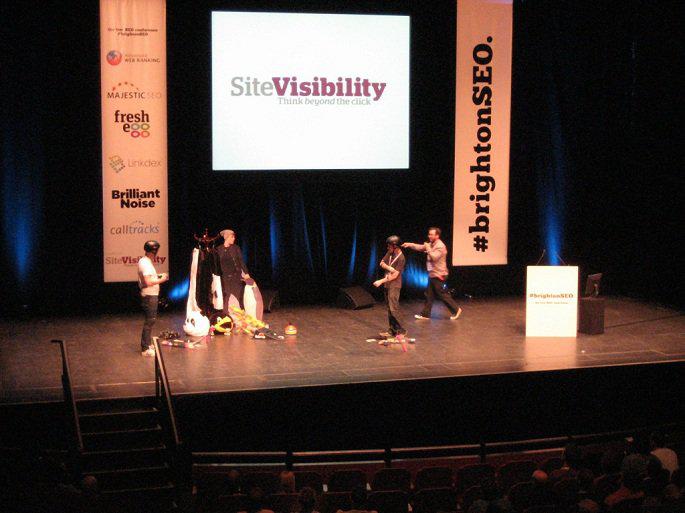 Berian Reed @BerianReed – Tactics and Tools
Berian had a great tip by using Tynt. This tool measures when users copy and paste, which is vital as 70% of all web sharing being utilised via email as opposed to social media and other channels.
Another hint was to get a full URL for referring domains by hacking Google Analytics, full method can be seen on this blog post by Ruben Yau .
Changedetection.com is a free tool whereby you can get a notification if something on page changes, which can be useful. Tool recommendations from Berian are for Majestic, On Site Explorer and Link Detective, so check them out if you are not already using them.
His slides can be found here http://www.slideshare.net/breed01
Sion O'Connor @SionOConnor – Client Checklist for SEOs http://www.slideshare.net/sionoconnor
Sion's presentation had some sound advice on how to prepare client checklists for SEOs and an outside view of how they are perceived. Remember that SEO is not an academic foundation as such and optimisation techniques and algorithms update frequently. He also tells us to be honest, if there is a risk, let clients know this.
Danielle Fudge @D_Fudge – Pinteresting SEO
With 80% women as Pinterest's audience, Danielle went through some great advice on how to rank for some perhaps mundane search terms with the use of the content sharing service! In her talk she went through her methods of ranking for "sheds", on Forward's new free tool – Pinalytics.
Tom Lewis of @dcstorm_uk – Attributing to SEO
Tom showed his slides which were great for all those involved in-house, which focused on attributing funding in digital strategy to actionable areas. His slides were packed full of cake! He said a lot of search was being attributed to brand, but we need to bear in mind (and account for in funding) the cookie-window length and have a more holistic view around how consumers' visits can be longer than this period.
Jason Woodford @JasonAEWoodford – The Business of SEO and How to Make the World a Better Place
Another talk, which ushered the importance of our sometimes intangible industry. With 65% of organisations planning to increase their investment in SEO services over the next 12 months, search/digital is one of the areas still in its infancy and is important in any company's marketing efforts.
Anna Lewis @Koozai_Anna – Quickfire Analytics
Anna finished off the day with an informative look into Google Analytics to give beginners and advanced users a few tips. They include using event tracking in the Yoast Google Analytics for WordPress plugin and a new Google shortcut tab, which can make laborious segmentations just a click away.