世界杯2022买球
Patrick Langridge
Posted 2 April, 2012 by Patrick Langridge in Events , SEO
中国体育平台 at LinkLove London
中国体育平台 at LinkLove London 2012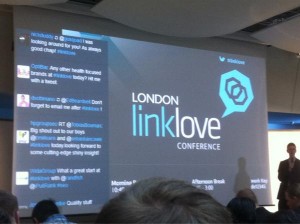 Last Friday the 中国体育平台 SEO team ventured out of our comfortable setting of sunny Henley-on-Thames, to head into the Big Smoke to attend Distilled's much lauded LinkLove conference . Distilled have been running successful SEO events on both sides of the Atlantic (LinkLove Boston is happening right now) for a couple of years now, and it was time that we checked one out to see what all the fuss was about. Having recently grown the team to bring in @SEOJackReid and @markcporter we couldn't think of a better way than to pop their conference cherries than to take them along to a conference focused exclusively on link building. Be sure to check out the speakers' decks (I've made best efforts to find them all, please send me links if I've missed any!), there are some crazy good tips to be found. Here's what WE found…
Distilled run LinkLove in partnership with the giants of our industry SEOmoz , so it was no surprise to see CEO Rand Fishkin kick things off with his great talk on Content Strategy (or to give the talk it's official title, ' F*$k Link Building. Content Marketing FTW '). I really enjoyed hearing Rand speak, he dropped some really cool stuff about customer acquisition cost ratio, and how to implement this when pitching for clients, and asked us to keep focusing on creating good content as it will always present multi-channel marketing opportunities. Mike King was up next and he began by revealing his new permanent position is the Director of Inbound Marketing at iAquire, congrats Mike! Out to debunk some myths and help improve email outreach, Mike studied 300,000 outreach emails to help us get more/better outreach responses – check his deck here . He smashed that myth that females receive more outreach success than males, his study showed that while they received a slightly better response rate, women actually received a slightly lower 'close' rate. And it's all about conversion right?
Branko Rihtman of SEO Scientist schooled me on some science of the SEO and social game. Actually, it wasn't just science that Branko talked about; there was plenty of maths in there too – how to work out who the 'selfish' Twitter users are, calculating what kinds of social sharing actually bring you links. It was unique and eye opening stuff from such a smart dude. Jane Copland was last up before lunch and she talked really well about 'Getting Golden Links.' We'd all love some links from the BBC, from large, trusted portals and of course from newspapers too, and Jane talked about how to put together a strategy to get these links. She sighted some great recent examples of link bait that were covered by the press and got tons of social shares and links online. It also brought up the link between SEO and PR and how to engage with journalists to write great content about your clients (and link to you ideally!), something which I wrote about last year in this blog post .
Lunch. Random little bowls of food started appearing from the kitchen, we stood around, ate them (the contents, not the bowls) and discussed the first half. The pasta was especially good, thanks for asking.
My joint favourite talk of the day was from Wil Reynolds of SEER Interactive who I've seen several times via YouTube and Distilled conference videos, but was anxious to see him up close and personal. Hey, Wil did not disappoint. He gave a great talk on how to engage (or as he put it, 'stalk') powerful influencers within your vertical using iGoogle – see what they're interested in and adapt to that, get them to notice you by 'helping' them, and then eventually get them to follow/G+ you with a view to building a long term relationship (which may or may not include getting great links, hehe). It really was fantastic, and his test worked too – Dharmesh Shah of OnStartups fame is now following Wil on G+, thanks to a couple of weeks of 'stalking'. Tom Anthony from Distilled is a really smart guy. He's clearly a talented developer and SEO, but also has time to fit in getting his PhD in Artificial Intelligence. Really. He gave a really great talk on 'Putting The Love Back Into Links', where he examined how the Google algorithm has viewed links and anchor text in the past, present and future. There was also some great stuff on the move towards rel=author and the weight that Google is placing behind trusted writers, as well as sites and domains. Dammit, I might actually have to start using Google+ for real. Oh, and I can't wait to try that tool, Tom.
Martin MacDonald (now of Expedia) gave Wil a run for his money for my personal favourite talk, entitled 'Tips, Tricks and Secrets From the Trenches.' With a title like that (and a history of run-ins Google) you can probably predict the kind of things that Martin was talking about. I personally found him refreshingly honest, realistic and relevant, and his recent story/case study of getting his blog post to rank for 'camper' is worth a read alone. It was down to Distilled co-founder Will Critchlow to wrap things up with the first half of 'The Critchlow Hierarchy of Needs' talk (the second half of which is being given by brother Tom in Boston). While the talk was perhaps not aimed directly at me (a lowly link builder), I couldn't help but be impressed with the amount of detail that Will went into, and the amount of tips and advice that oozed from his 60 minutes of slides. If you have a problem to de-bug, Will is your man.
And so to the debauchery of the after party – well, more like a few beers, some bowling, table tennis and table football (it was ALMOST like a triathlon). A few hands were shaken, backs were slapped and business cards were exchanged, which topped off a thoroughly satisfying and valuable day for the 中国体育平台 team. Thanks Distilled for a quite brilliant event.
Finally, I thought I'd place on record how surprised (pleasantly!), humbled and thankful we were to hear all the shout outs and the love for the 中国体育平台 SEO Spider – before, during and after the conference. I think we were mentioned in 2 or 3 of the talks, a couple of times in between talks and also during the secretive 'Give It Up' section of the day. We like to think that the tool was built by SEOs, for SEOs, so to hear that so many talented and smart people in our industry are finding value from it was just gravy for us. Thanks guys!
Image sources:
@iPullRank and @randfish discussing SEO outreach strategies. SEO: Boss Level. #Linklove pic.twitter.com/jXEGqNwD

— Dan Clarke (@danclarkie) March 30, 2012
@iPullRank aka Director of Inbound Marketing for iAcquire. #linklove nice presentation;) pic.twitter.com/Uc4sqJA2

— Brittan Bright (@BrittanBright) March 30, 2012

http://foliovision.com/2012/03/30/linklove-london-30-march-2012
http://www.alextanner.net/wp-content/uploads/2012/04/Linklove-London-20121.jpg